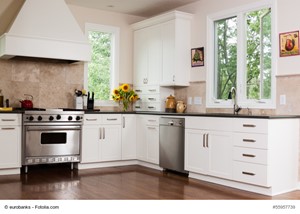 If you want to sell your house, you may want to take a close look at your home's interior. That way, you can identify any potential home interior issues and address them as quickly as possible.
Determining the best ways to transform your home's interior from drab to fab may seem difficult, particularly for a first-time home seller. Fortunately, there are several proven ways to enhance your residence's interior, and these include:
1. Cleaning
If it has been several weeks or months since you last cleaned your house, there is no time like the present to perform extensive home interior cleaning.
Wipe down countertops, mop the floors and clean every room of your house. By doing so, you can make your house look clean and pristine.
Also, if you need extra help cleaning your home, you may want to hire a cleaning company. With a team of home cleaning professionals at your side, you can speed up the process of improving your house's interior.
2. Decluttering
Clutter is an eyesore that home sellers should try to eliminate. Luckily, there are many quick, easy ways to remove clutter from your house.
Oftentimes, one person's clutter is another's treasure, and you may be able to sell excess items at a garage sale or online. Set competitive prices for your excess items, and you should have no trouble stirring up interest in these items.
You also can donate excess items to charities in your city or town. Reach out to local charities, and you may be able to get excess items picked up from your house.
3. Interior Upgrades
If you notice home interior lights are no longer working, cracks or dents in your walls or other minor home interior issues, you should spend some time performing various upgrades and repairs.
In most instances, minor home interior upgrades and repairs may require just a few minutes to complete. Meanwhile, these home interior improvements can make a world of difference in the eyes of homebuyers and can help your home stand out to potential buyers.
Clearly, there are many ways to improve a house's interior in no time at all. But if you require additional assistance, you can always hire a real estate agent to help you generate interest in your residence.
A real estate agent knows exactly what it takes to bolster a house's interior. He or she can help you assess your home's interior and prioritize assorted home interior improvements.
Furthermore, a real estate agent will make it easy to navigate all stages of the home selling process. This housing market professional will help you list your house and promote it to large groups of potential buyers. Plus, if you receive offers on your house, a real estate agent can help you evaluate these proposals and make an informed decision.
Don't hesitate to enhance your home's interior. Instead, consider the aforementioned options, and you can take the first step to improve your house's interior.