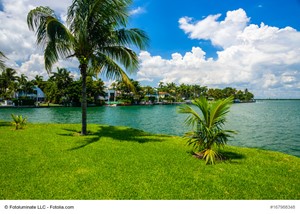 With few exceptions, Florida could be considered a state that's all things to all people. However, that statement comes with a few caveats. Specific cities, communities, and neighborhoods, for example, tend to cater to different lifestyles, age groups, and income levels.
In order to find the specific location that would best suit your needs, a two-step approach is recommended. First, you need to clarify in your own mind the type of lifestyle and environment that would make you happy. For instance, if pursuing a beachside lifestyle is your goal in buying a Florida home, you probably would not find it satisfying to live more than a few blocks from the ocean. Some people -- especially singles and young couples -- enjoy living within walking distance to restaurants, bars, and retail stores. Others gravitate to a quieter, more suburban setting.
Step Two: Whether you're interested in living in the heart of a bustling city or adopting a more sedate lifestyle, a little research will guide you in the right direction and help you narrow down the possibilities. Once you get to the point of choosing a real estate agent to assist you in your quest, you should have a pretty clear idea of the type of community you're looking for. Based on your budget, your interests, and your desired lifestyle, an experienced buyers' agent can provide you with the guidance you need to find your ideal Florida home.
The life stage you're at will also play a major role in helping you and your agent navigate the varied and diverse real estate market in Florida. Since everyone's priorities change over time, the needs of a young family would be drastically different than that of a childless couple or one approaching retirement age.
A few factors worth keeping in mind as you search for a desirable Florida home would include the character of the neighborhoods you're considering, their proximity to recreational areas, and the availability of nearby shopping, entertainment, and medical care. Picking a location that provides convenient access to highways, airports, and other modes of transportation is another priority for many people.
It's also nice to be reasonably close to fun places to take your kids or grandchildren, such as Walt Disney World, Magic Kingdom, Universal Studios Orlando, The Wizarding World of Harry Potter, Epcot Center, SeaWorld Orlando, Aquatica (SeaWorld's waterpark), Disney's Animal Kingdom, Discovery Cove, Silver Springs State Park, Busch Gardens Tampa Bay, Kennedy Space Center, the Florida Keys, and Daytona International Speedway.
Livability, a website that ranks places to live, says the following cities, are among the most desirable in Florida: Miami Beach, Tampa, Orlando, Gainesville, Coral Gables, St. Petersburg, Naples, Port St. Lucie, The Villages, Jacksonville, and Tallahassee. Although each of the cities has its own unique set of characteristics (pluses and minuses) and may not be a perfect match for everyone's needs, the list comprises a helpful starting point for anyone interested in learning more about living in Florida and possibly buying a home here.